Welcome to the St Rose Catholic school community.
At St Rose we have a diverse range of curriculum activities directed by a team of dedicated and enthusiastic professionals.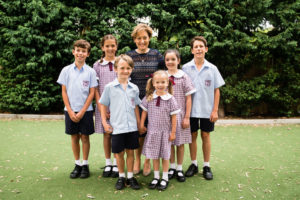 Our commitment to ensure each child's needs are met is strengthened by the belief that each individual has unique gifts and Jesus is present in each member of the school community.
2019 HIGHLIGHTS!
Ranked Number One performing Primary school on the Northern Beaches and Sydney North Region
Netball Senior Champions
Cricket Senior Champions
3/ 4 and 5/6 Boys Soccer Champions
5/6 Girls Soccer Champions
Northern Beaches Eisteddfod – 2nd place
Inaugural Northern Beaches Catholic Schools Chess Competition- 2nd place
Small School Athletics Champions
First Catholic school in Australia to introduce Return and Earn Charopy recycling. 
Implementation of the St Rose Learning Framework
Transition to high school program
NAPLAN – Above State average results in both Years 3 and 5 Literacy and Numeracy
Student Leadership Program
Achievements in Curriculum, Sport, Creative Arts, Mission and Student Well Being
We are a learning community underpinned by a shared leadership model, empowering staff, parents and children to make decisions for their learning, supported in a nurturing environment. Parents are acknowledged as the primary educators of their children and we encourage you to be actively involved in the life of the school and parish in a variety of ways. Our school grounds and facilities are well maintained and safety is of utmost priority.
Leadership Statement of Purpose
St Rose publishes an Annual Public Report to the community each year.
The NSW Board of Studies Registration Requirement 5.10.1 requires: "A registered non-government school must have policies and procedures that ensure its participation in annual reporting to publicly disclose the educational and financial performance measures and policies of the school".
Collaroy 2018 Annual School Report