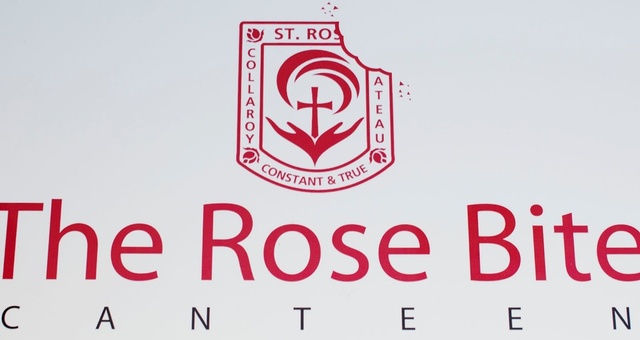 The Rose Bite canteen operates on Mondays and Fridays for lunch.
The canteen aims to provide the students with nutritious and delicious snacks and meals. The menu varies according to the seasons, availability of various foods and is updated each term.
Students are only permitted to purchase items for themselves.
There are items available for purchase over the counter at lunchtime.
Birthday treats can also be ordered via the Qkr! app.
The canteen is staffed by a Canteen Manager. Volunteers are very welcome to assist between 12noon – 2pm Mondays and Fridays.
All volunteers must have completed the relevant volunteer induction and documents.
Please be aware that lunch orders need to be placed via Qkr BEFORE 8.30am on the day.  Orders will not be taken after this cut off and other arrangements for lunch must be organised.
In line with our stewardship of the earth philosophy at St Rose we require all students to have a Stickybeak bag for their lunch order. These bags are reusable, insulated and kept at the canteen.  Sticky Beak bags can be purchased online.
LUNCH ORDERS AND MENU
Easy to use phone app that gives you the flexibility to place orders at a time and place that suits you
For quicker, hassle-free school payments use Qkr!
Getting started is easy;
Download the Qkr! app.
Register your information
Find your school
Register your child/ren
Once this is completed you are well on your way to order directly from your phone.
Please note, American Express is not accepted through Qkr!
What can I order via Qkr ?
Healthy Lunch Orders
Birthday Treats
School events
Sports trials